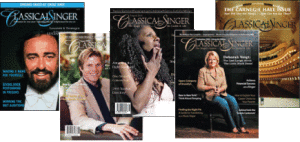 "Our three-week opera workshop was a great success–
beyond my wildest dreams! And more than fifty percent
of the participants say they saw my ads in Classical Singer magazine."

– Dr. Madelyn Spring Gearheart
Artistic Directory, Opera Viva!
Subscribers:

6,000 paid subscribers with a readership of more than 20,000

Demographics:

50% East Coast, 25% Midwest and Canada, 25% West Coast
75% Female, 25% Male
50% Professional/Emerging Professional Singers, 33% Students, 45% Private Voice or Choral Teachers
Download the updated Media Kit for more demographics and details.
Print Advertising:

10 issues/year
Magazine Highlights:

January Issue – Summer Programs and the printed Summer Programs Directory
May – Convention Program
Summer – Combined June/July/August issues, Voice Teacher, Coach & Accompanist, and Young Artist Program directories
September -University Edition and printed University Directory

Digital Advertising:

Ads are displayed on both ClassicalSinger.com and AuditionsPlus.com
Available sizes:

Small and Large Block ads – right side of every page
Banner ads – top and bottom of every page

ePreview

Ads included in our monthly magazine preview to subscribers and non-subscribers.

Auditions Plus Alerts

Ads included in our nightly Auditions and Competition Alert emails, sent to more than 5,000 singers.
Featured Listings for one week on the alerts for just $35.

Sponsored Email

Your html sent from us to our entire list of 58,000 emails.
See an example of an html email Here.
For more details or questions, contact Dane Trimble via email or call 801-254-1025 x17.